Happy Christmas to all of our Customers and Suppliers
Stephen Hall Joins the Team
We are very pleased to welcome Stephen Hall to the Sealock sales team. Stephen, who lives in the Corby area, takes on the position of Midlands area sales manager and is looking forward to introducing himself to all our customers in his area.
If you would like to discuss your business or just say hello then you can contact him on
07817 719133
or via email stephen@sealock.co.uk
Sealock Spzoo exhibit at Taropack
Come and see us at Taropack 2018
From October 1st – 4th Sealock spzoo ( part of the Follmann Chemie group) will be exhibiting at Taropack in Poznan, the premium packaging show for Poland and the surrounding countries.
We look forward to welcoming you to our stand and to discuss any bonding / adhesive questions and requirements you may have along with introducing you to some of our latest innovations.
At this years show we have our full Polish sales and technical team as well as collegues from Germany and UK.
We look forward to seeing you!

Sealock joins Follmann for Fachpack show
FachPack is a leading fair that is well established in Europe, it is one of the most important fairs for the European packaging industry, welcoming more than 40,000 trade visitors and a pool of 1,500 and more exhibitors.
''As part of the Follmann group of companies Sealock was very pleased to be on stand this year with our colleages particularly to demonstrate our latest adhesives innovations for the packaging industry'' said Andy Willis- Sealock Technical Product manager.


Mark Greenway appointed as UK Sales Manager
We are very pleased to announce the appointment of Mark Greenway to the position of UK Sales Manager.
Mark has already been a successful part of the Sealock sales team acting as area sales manager for the South , and the new position will see him expanding his role to the directing of our nationwide team.
Sealock have a full regionally based experienced sales team supported by localised technical support for fast response. We look forward to Mark and his team continuing to offer the outstanding customer service and support that Sealock has become recognised for.

Chemist Required
We are currently seeking Chemist to join our busy UK laboratory. Previous Adhesive experience is essential particularly hot melt and water based technologies.
The role:

To develop and test products as required by Marketing, Sales and our Customers, within established timeframes and parameters, in order to meet the goals and objectives of the R&D / Technical Department.

This is an exciting opportunity to join a successful, rapidly expanding company, that is widely recognised as one of the market leaders for Aqueous and Hot Melt adhesives.

If you are interested in this position, please email your CV to Chris Young on cy@sealock.co.uk

If you would like further information, contact Chris Young on 01264 358185.


Follmann Chemie GmbH Acquires Sealock Ltd
With the official signing of the Contract on 27 April 2018, Follmann Chemie GmbH has become 100% owner in Sealock Ltd based in Andover. Follmann is an independent family owned Chemical company based in Minden, Germany. They manufacture adhesives as well as printing inks, coatings and various other specialist products for Industrial markets. Follmann was founded in 1977, and has grown to be a €200 million turnover business.

"The transaction matches perfectly with our growth strategy in adhesives", says Dr. Henrik Follmann, shareholder of the Follmann Chemie Group. "In selling these products through the Follmann organisation, we will be able to develop significant growth opportunities, especially for the German market, where Sealock Ltd is not running any business activities yet. For this reason, the outlined strategy will strengthen the position of both Sealock Ltd and Follmann."

"We are happy that Chris Young will continue to lead Sealock Ltd in the future. His teams' know-how will give new impulses to the Follmann adhesive business", Dr. Henrik Follmann. The Board of Directors will consist of Chris Young (Managing Director), Rob Ladd (Finance Director) and Dr. Thomas Damerau (Representative of Follmann Chemie Group).

Our picture shows from left to right Dr Henrik Follmann, John Young, Dr Thomas Damerau, Chris Young.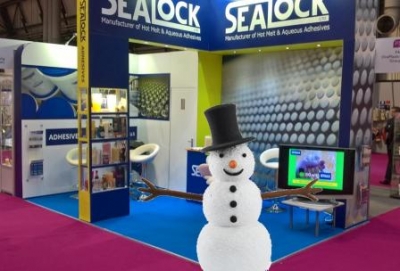 Packaging 'In-Snow-Vations' -28th February - 1st March 2018
We were very pleased to welcome all customers and visitors that battled the weather to our stand at this years Packaging Innovations show. The 'Beast from the East' had a significant effect on the footfall but to the brave ones of you that came to see us we would like to thank you.

I hope that you all got home safely and didn't spend the night in your cars.

Thank you again.

ROBIN SHARP RETIRES
After 14 years with Sealock and a lifetime of professional selling within the adhesive industry, Robin Sharp (Midlands Area Sales Manager) retires.

Robin had become a cornerstone of Sealocks' customer facing team over his tenure and his professionalism and enthusiasm will be greatly missed.

During a retirement meal attended by the whole Sealock team, Robin highlighted that the key to his success was, and still continues to be, the continued support of his wife, Sue. He also commented that his only regret looking back at his professional career was that he had not worked for Sealock sooner. We wish he had too!

All of the Sealock team would like to wish their colleague the very best for his retirement and for many happy and healthy years ahead.

Good luck Robin.

Our picture shows Robin and his wife, Sue, at a recent meal to celebrate his retirement.

10 YEAR ANNIVERSARY FOR SEALOCK TEAM MEMBERS
To celebrate the 10 year anniversary of three key members of the Sealock team, a dinner was held at a local Andover restaurant.

Tony Stepin, Bruno Pinto and Neil Goldsmith were guests of honour and welcomed into the Sealock '10+ Year Club' by Chris Young. With almost complete attendance by Sealock UK staff, it was calculated that there was 350 years of Sealock staff experience present.

Congratulations to Tony, Bruno and Neil on achieving 10 years' service with the Company.

Top picture (from left to right ) Tony, Bruno and Neil with Chris at the back.

IPEX 2017
IPEX was back at the NEC Birmingham and we were very pleased to see the rush of visitors.We all remember when IPEX was a multi hall large exhibition but as so many shows are nowadays it had reduced to a more concentrated version which on discussion with visitors and customers to our stand was still of value.
Thank you for all the visitors at Ipex who took the time to visit our stand.
Sealock it seems are still the adhesive company of choice for the Print and Graphic markets where added value/performance products are required.
Another great show - PPMA 2017
We would like to thank all customers and visitors who came to our stand at the PPMA show Birmingham NEC.

Whist information is now so immediately available online it's good to know that leading exhibitions such as the PPMA show are still relevant as part of our communication with customers and the markets we serve.

Thanks to everyone that came on stand.

Intermelt celebrates the opening of its second pelletising line
The shareholders and staff of Intermelt ( Sealocks Russian sister company) got together to celebrate the official opening of their new hot melt manufacturing line.
A celebratory lunch and a ribbon cutting ceremony was held with a demonstration of the line and a tour of the new production facility.

Congratulations to the Intermelt team
Sealocks sister company in Russia , Intermelt ZAO, celebrates 10 years
To celebrate this occasion the staff attended a boat trip around the canals and waterways of St Petersburg including a meal on board.
Interestingly over half of everyone attending have been working for Intermelt for over 6 years with many being part of the original team.

Congratulations to all our colleagues at Intermelt

Latest green news for 2017.
BioLock H100 has been specifically developed for the packaging market allowing customers to produce full bio based packaging solutions.
We would be very pleased to discuss this 'green' grade and any of our other range of bio based and biodegradable products with you .
For more information contact

Andy Willis - Technical manager UK & Poland - 07909 536164
email :- acheivemore@sealock.co.uk

The PPMA Total Show. 27th - 29th September 2016
Sealock would like to thank all customers and visitors alike who attended our stand at The Total Processing and Packaging Exhibition /PPMA show this year.

All of our technical and sales teams were available and were pleased to discuss our latest new technology products and our full range of UK manufactured hot melt and aqueous adhesives.


Thanks again.
Taropak
September was a busy time for Sealock exhibitions.
With two shows running at the same time in the UK and Poland our sales teams have been very busy.
Sealock Poland was pleased to be taking part at the biggest Polish packaging show Taropak this year. This was the third bi-annual Taropak show that Sealock has exhibited at and we were pleased to also have members of other Sealock group companies available at the show.
At this years show we received over 50 international visitors to our stand as well as many of our Polish customers and visitors.
Sealock spzoo is one of the leading manufacturer of adhesive for the Packaging and labelling markets supporting Poland and many Eastern European Countries.

Three Peaks Challenge success
''BEEN THERE - GOT THE TEE SHIRT''
We are very pleased to congratulate Hayden Gerke ( Sealock Hot melt Supervisor) for completing a sponsored Three Peaks Challenge raising money for a local hospice.
The Three Peaks Challenge is an attempt to climb the highest peaks in Scotland, England and Wales in 'one go'.
42km total horizontal distance, 3000 vertical metres, 3 Peaks.
Hayden regularly competes in many severe physical challenge events and said that this was a real test of mental stamina particularly to reach the final peak.
Well done Hayden - What's your next Challenge??

Further hot melt line for Russia
Intermelt ZAO have just completed the purchase of a hot melt pelletiser line from Gala Industries.
Intermelt are the Russian sister company to Sealock and following recent investments in its factory and warehouse it will be commissioning its new manufacturing line by the middle of 2017.
Our business has increased significantly over the last few years and we had been utilising the support of our sister companies where our Russian manufacturing was at full capacity. The addition of this new line will put us in a very strong position for the future and current demands of the Russian hot melt adhesives markets.
With all the infrastructure in place for this new line we have also built in future requirements for the expansion of our hot melt pressure sensitive adhesives manufacture.

our picture shows ( from left to right)
Chris Young ( MD Sealock) Pavel Stepanovsky ( MD Intermelt) and Helmut Schottner ( Gala)

Mike Coles hasn't aged a bit!
Retired Sealock Northern Area Sales Manager Mike Coles, visited our Andover factory for the first time in 10 years.
Since his retirement in 2006 he has continued his active and varied interests which include, diving, running, motorcycling and many other activities. He has also kept his interest in professional selling and regularly acts as a consultant for various people and companies.
During his visit he commented on the various new plant that has been commissioned since 2006, particularly the hot melt pressure sensitive pillow line, the aqueous high efficiency bulk reactor and the factory extension.
We would like to wish Mike and his wife Terri a continued active retirement.

Our picture shows Mike Coles ( Far right in left hand picture ) with some of the Sealock sales team back in 2005 - and in a selfie with Chris Young(Sealock MD on the left side of the picture)and Mike Coles ( on right of picture) during his site visit to Sealock Andover in February 2016.
The Print Show
It was a pleasure welcoming visitors to our stand at 'The Print Show' in October.
One of the most interesting comments that we received from a customer at the show was:-
"where we use adhesive is on value added items that achieve higher margins for our sales. There's a direct correlation between the two"
This might not be the case for all printed articles using adhesive but we are very pleased that Sealock adhesives can help our customers achieve additional value to their printed articles.

Rosupack show success for Intermelt
Sealock's sister company in Russia, Intermelt, was very pleased to meet all of its' customers and attendees at the recent Rosupack (Moscow) Show in June.

Intermelt is one of the only manufacturers of Hot Melt adhesives in Russia, and is the leading adhesive company in many of its' markets including the labelling, print and packaging sectors.

At this show we had representatives from Sealock's UK and Polish offices, both present to support their Intermelt colleagues.

On the stand we were pleased to welcome many international customers, particularly representatives of European Group companies that we support through our factories in the UK, France, Poland and Russia.

Our picture shows Irina Dolgih (Head of Moscow Office)
and Pavel Stepanovsky (Managing Director)

Celebrating 70 years at Sealock
A dinner was held to celebrate the combined anniversaries of three key members of the Sealock team.
Hayden Gerke ( Hot melt Supervisor) completed fifteen years,
Rose Gerke ( quality and laboratory)completed 25 years,
and Peter Young ( Director)completed 30 years at Sealock.
A grand total of 70 years between them.
During the meal it was also calculated that around the table members of the Sealock team had over three hundred years of service. Wow!
John Young ( Sealock Founder and present day Chairman) commented during the meal that Sealock is recognised for its outstanding customer service and quality standard and this has been built by the dedication of the whole of the Sealock team.
Congratulations to Rose,Hayden and Peter.

- Peter Young is recovering well from the stroke he suffered before Christmas and hopes to be back at Sealock soon.He would like to thank every one for all the messages of support that he has received.

Top picture ( from left to right ) Hayden,Peter,Rose
Bottom picture ( from left to right ) John Young Founder and company Chairman,
Tony Stepin ( Operations manager),and Chris Young ( MD )
Work complete on Sealock factory extension
Our picture shows the new extension during construction and inset picture from right to left John Young ( Sealock Chairman and Founder) along with Jean Marc Barki( Managing Director of Sealock sarl) and Chris Young ( Managing Director of Sealock Ltd)



Work has now been completed on the extension to our Andover factory.
The build program went very smoothly and did not affect the day to day operation of the factory.
The extension has increased the current size of the factory by 25% and has more than doubled Sealocks storage capacities.

The commissioning of further manufacturing equipment has started and will be fully operational by the end of this year.
"There has been no disruption to our existing services during the build and we are pleased that with this now complete we can progress with our further investment plans.
This includes major investment for our UK research and development laboratory along with new plant and process investments at our factories in France, Poland and Russia. All of these investments are proof of our commitment to our customers and the markets that we serve." said Chris Young Sealock Managing Director.



Successful launch of Sealocks award winning Metallocene and New Melt grades into the Russian market

Our picture shows John Young ( Sealock Chairman and Founder) along with Pavel Stepanovsky ( Managing Director of Intermelt ) and Chris Young ( Managing Director of Sealock Ltd)

Sealock group chemists and production teams have successfully finished the transfer and signing off of Russian manufactured hot melt Metallocene and New Melt made by Intermelt for the Russian market. Pavel Stepanovsky ( Intermelt MD) said:- We have had a significant amount of interest and success particularly from the food and beverage industries for these new grades and we've been able to reduce consumption in all cases by between 30 – 50%.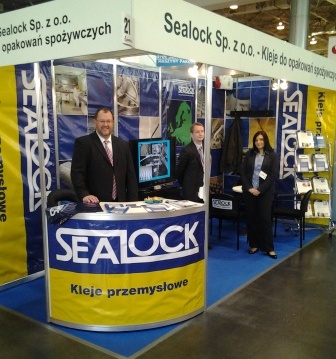 Pakfood exhibition
Sealock were very pleased to welcome all of our visitors onto our stand at the recent PAKFOOD Food Industry Packaging Fair held on 23–26 September 2013 in Poznañ , Poland.
Peter Young - Director of Sealock Ltd said - '' its very good to be part of a busy and exciting show and to meet with our Polish and other international customers and colleagues.''
Sealock were promoting the latest range of New Technology ultra high performance hot melts and food packaging grades which were well received.

Our picture shows - Peter Young ( Director Sealock Ltd) in the foreground with Pawel Kwasnicki ( key account sales manager) and Anna Chwistek( Sales and general manager)Sealock sp z oofrom our Polish team.
Anita completes her third Moon Walk
Congratulations to Anita Ripley and her team who recently completed The Moon Walk London 2013.
After just over 7 hours of walking through the night the team successfully crossed the finish line and we are all very proud of their achievement and the money that they raised towards Breast Cancer research.

Anita who is one of Sealocks sales administration team remembered her last Moonwalk where she famously made the comment 'never again!'
Well after this latest one - who knows!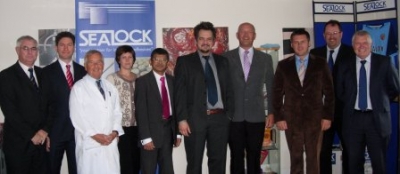 Expansion of Sealock group
We are pleased to announce that after many years of working together technically and commercially, Sealock has now become a major share holder of Intermelt ZAO.
Intermelt ZAO is a Russian adhesive manufacturing company with a factory and offices in St Petersburg with a further commercial office and warehousing in Moscow.

Manufacturing hot melts and other adhesives for the Russian market for over 15 years Intermelt are recognised as one of the market leaders for adhesives for the labelling, packaging and the bookbinding Industry.
In fact Intermelt were one of the first hot melt manufacturers in Russia.

As our customers develop their business throughout Europe we are pleased that through our UK,French,Polish and now Russian companies we are able to give full localised production, technical and sales support. Intermelts strategy has been a simple one which continues to be to manufacture and supply adhesives to the highest standards of quality and performance.

If you have any requirements for adhesives in Russia then please contact either our Russian team on +7 495 518 7882 , email info@intermelt.ru or alternatively speak to our UK , French or Polish teams who would be delighted to be of assistance. ( see 'Contact details on website)

our picture above shows memebers of the UK and Russian teams including: - 5th in from right, Pavel Stepanovsky ( Intermelt Managing Director) . - 3rd from the right, Igor Shiroky (Intermelt Sales Director)

Iso 9001;2009 reacreditation for Sealock Poland
Iso 9001:2009 re accreditation for Poland

Sealock Sp. z.o o. has recently had its quality system reaccredited to Iso 9001:2009.
Marcin Chwistek ,Director of Operations( shown second in from the right in picture ) said that the company was very proud to continue to maintain this high standard and thanked his team for their commitment to its maintenance
It is also worth noting that Sealock Sp.z .o o. had been one of the first manufacturers of adhesives to achieve this accreditation in Poland.

Anniversaire Cristal

As part of Sealock sarl 15 year anniversary a celebratory dinner was held attended by all Sealock France staff along with representatives from Sealocks UK and Polish teams

Jean Marc Barki ( Managing director and co founder of Sealock Sarl in France) commented that from the start when Sealock were looking for an agent in France through to the establishment of Sealock sarl then to the subsequent growth and development of the company he was very proud to be celebrating this achievement.

John Young ( Chairman and founder of Sealock almost thirty years ago ) said – Following the success that we achieved from our UK factory which I established in 1983 I was convinced that we could establish a very successful company in France that would be able to support mainland European customers. I am very pleased that through the hard work of all the team Sealock sarl in France along with Sealock in the UK and Poland has become one of the leading manufacturers of adhesives for packaging, print, product assembly and many other Industrial markets.
John also made comment that without the support of Brenda ( Johns wife of 50 years and Sealock company secretary) during the early years of Sealock none of the development of Sealock initially in UK then France, and Poland would have been possible.

Congratulations to the whole Sealock team and from all the team we would like to thank all of our customers for their support and contribution towards our continued success. Thank you

Our picture shows Jean Marc Barki, Brenda Young and John Young

Sealock co sponsors local tournament
Sealock Ltd, CreativeWebTech and Sanders Pool Table Hire have sponsored Andovers ''Festival of Pool''. The tournament which promotes pool in the Andover area also helps support supervised table time for 11 / 15 year olds at various locations in the community.
'' As a company that has been manufacturing in Andover since our creation 29 years ago Sealock is a keen supporter of local community activities. The ' Festival of Pool' is just one of the many community sports activities that Sealock supports and we are very pleased to be involved again in 2012.'' said Peter Young, Sealock Ltd Director.

What has Norman and Beyonce got in common?
Well they both played at Glastonbury this year!

Norman Purcell, Sealocks Technical manager doesn't confine his talents to the pursuit of adhesive excellence but also has an active role in one of the West Countries busiest Jazz bands, 'The Grey Dogs'.

This year gigs included their highlight for 2011 with a billing at Glastonbury Festival.
If you weren't lucky enough to be one of the audience for this gig then don't worry as some of the moment has been captured by a fan and placed on you tube.
Norman commented – 'I would like to thank every one for coming to see us and it was particularly good to see the audience dancing and enjoying our performance.'

If Norman starts dropping names like Bono and Beyonce you now know his secret!